"The arses on the trousers aren't very tight. They're very loose and baggy and I like tight trousers. And the shoes - the shoes have got a bit of a heel, and it's a strange sensation for a man. Especially when you're running." He mimes a mincing trot. "I am mighty Hornblower! Watch me run like a girl!"
- Ioan Gruffudd.
Ioan Gruffudd did an outstanding role as the charming Bosinney in the Forsyte Saga remake, which I watched, crying of course.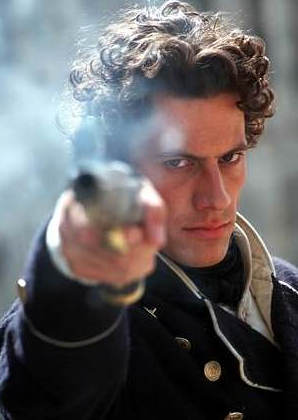 He also did a convincing manouver as the amazing Midshipman Hornblower, a book which I attempted to snore my way through - only because of him!
(wasn't worth it, never read it).
Other roles he's taken is of course the role as Mr. Fantastic in Fantastic Four (a title I personally found very suitable), and of course the charming Lancelot in the earliest King Arthur.
That's not bad for being
Welsh
. (No offense Josh).